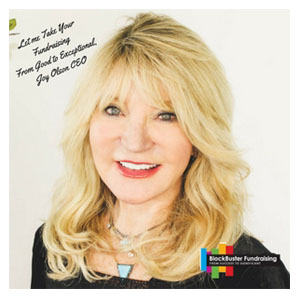 Welcome to Blockbuster Fundraising

At Blockbuster, we love getting great results for your non-profit! We believe in leading edge best practices and vigilantly research the very best ideas in fundraising today. We help you think big, think success, think planning, think donor love and think success to significance!
WHO WE ARE
20 years of Super Successful Fundraising in the Trenches, Taking Success to Significance
WHAT WE DO
Here's your opportunity to hang out
with an extraordinary fundraiser
CHECK US OUT
Check out the Daily Fundraising Tips on our BlockbusterFundraising Blog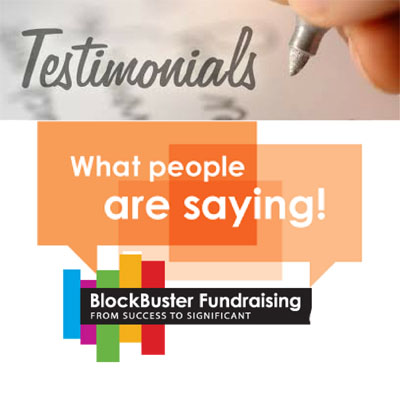 "Joy Olson had a 'meteoric rise' at PBS. She started out in membership, performing so well we added "Major Gifts Officer" to her duties. Within a year, Joy was appointed development director, becoming one of the most successful Southern Oregon public television had ever seen."
"In her role as executive director of the Bear Creek Greenway Foundation I saw Joy set goals that were very, very ambitious, and then achieve them by implementing a well-conceived strategy. Joy, a skilled organizer, keeps her efforts efficient and on target. Joy Olson is exceptional. She is a winner who brings success to any enterprise in which she is engaged."
"Joy's accomplishments at SoHumane are staggering. She thrives on solving problems. During her tenure at Bear Creek greenway, she quickly – and we mean quickly – secured the $4 million needed to complete the last 4 miles of the Greenway. In 2011, when we were at our darkest hour, Joy worked the phones, knocked on doors, and practically went from house to house to find the money needed to keep the doors open and secure a financially sustainable future for SoHumane."
"I recently had the opportunity to attend an intensive development/fundraising training class with Joy Olson. As a new development director I can say without hesitation it was time well spent. Joy has such an impressive background and is an absolute master of best practices when it comes to fundraising and development. If you are looking for the highest caliber of fundraising and development experience I suggest you contact Joy. She has a proven track record of extraordinary results."
AHA MAJOR GIFT MOMENTS
If you're interested in Major Gift success, you will definitely be reading "Rainmaking: A Fundraisers guide toLanding big gifts." Written by Jones & Olsen, together they present a framework for major gifts that allows you to implement immediately their secrets and tips for great success./
MAJOR GIFT MAGIC
13 Tips for Major Gift Commitment
It is always great to find new ways to engage and connect with your major gift donors. Roy Jones and Andrew Olsen offer 13 ideas for on how to do just this in their book, Rainmaking: A Fundraisers Guide to Landing Big Gifts.
Tip #1: Meaningful experience
There is no better way to create engagement than giving your donors the opportunity to experience working with you. It will help them understand what you are doing and become more committed.
Tip #2: One-on-one
Spend time with your major donor prospects one-on-one. This will help build a deep meaningful relationship.
Tip #3: Host small group events
Engaging your major donors with small intimate events is a wonderful way to build commitment. Small lunches at the home of a board member is a great way to do this. You will be able to gather great insight into your donors at these events.
REVIVE YOUR RETENTION!
Retention Rates are a hot topic in fundraising today as well they should be! Don't lose all those donors you worked so hard to get! Keep them happy and appreciated and keep your organization strong with a revved up Retention Rate!
WIN BACK LAPSED DONORS
One more positive thing we can do now! Print out your lapsed donor list, any donor who did not give in 2016, and get ready for action! Action steps and letter (or call script) included! Also a couple great links to more information!
http://www.pamelagrow.com/3878/loving-lapsed-donors-back-fold-simple-brilliant-oh-swipe-able/
Awesome fundraising content means everything!!
Pamela  says the content key to our donors heart is a three step process. Let's take a look!!   http://www.copyblogger.com/remarkable-content/Measuring Your Fundraising Success
What Makes Donors Give More
Ever wonder why your donors could give more but don't? Want to encourage donors to give more always? Check out this daily tip that features the 2016 Burk Donor Survey and their Donor pointers. For more information, videos and blogs see www.blockbusterfundraising.com
I started my career as a stockbroker and after 17 stressful years so looked forward to the feel-good and do-good non-profit world. I am a competitor and did my first triathlon at 40 later becoming an age-group world class triathlete. My first marathon was a few years ago in Paris with my Rotarian friends. I loved being a mother of 2 sons and am crazy in love with my pets, currently four dogs and three cats. I love huge challenges and prefer turnaround situations where getting money in the door is critical. I love having a Plan A with a good back-up Plan B to make sure it happens. Planning is Critical. A true passion of mine in the development field the past six years is social media, I think it is the new wave and direction of fundraising in the world and I embrace it. Now I love being at the point to quantify the results. And finally it is with great pleasure and satisfaction to make my experiences available and scalable for anyone out there who has the passion and the inclination to make the world a better place by becoming an expert fundraiser! Here's to you and I hope your hearts will help change the world.
WE WORK WITH FUNDRAISERS GLOBALLY TO GIVE THE HIGHEST QUALITY ADVICE AND TRAINING POSSIBLE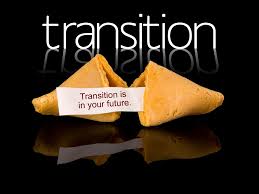 Today, Transition and Succession is certainly the topic uppermost on our minds.
Fundraising Takeaway #1 from Election is Graceful Transition and Succession
Our Daily Tip today asks the question, "Does Your Nonprofit Have Succession Plan in Place?"
BlueAvocado blog advises us on 6 steps to address now for a good non-profit transition plan.
http://www.blueavocado.org/content/succession-planning-nonprofits-all-sizes