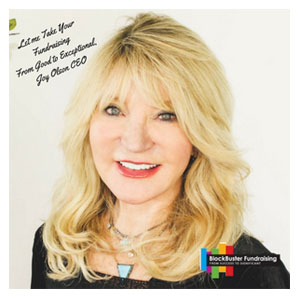 Welcome to Blockbuster Fundraising

At Blockbuster, we love getting great results for your non-profit! We believe in leading edge best practices and vigilantly research the very best ideas in fundraising today. We help you think big, think success, think planning, think donor love and think success to significance!
WHO WE ARE
20 years of Super Successful Fundraising in the Trenches, Taking Success to Significance
WHAT WE DO
Here's your opportunity to hang out
with an extraordinary fundraiser
CHECK US OUT
Check out the Daily Fundraising Tips on our BlockbusterFundraising Blog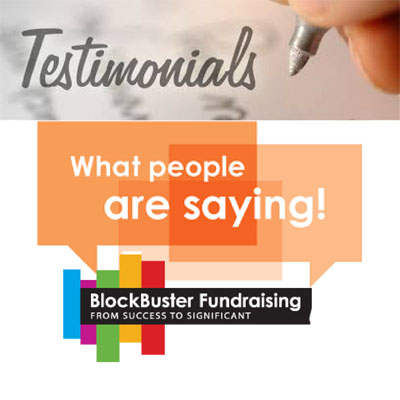 "Joy Olson had a 'meteoric rise' at PBS. She started out in membership, performing so well we added "Major Gifts Officer" to her duties. Within a year, Joy was appointed development director, becoming one of the most successful Southern Oregon public television had ever seen."
"In her role as executive director of the Bear Creek Greenway Foundation I saw Joy set goals that were very, very ambitious, and then achieve them by implementing a well-conceived strategy. Joy, a skilled organizer, keeps her efforts efficient and on target. Joy Olson is exceptional. She is a winner who brings success to any enterprise in which she is engaged."
"Joy's accomplishments at SoHumane are staggering. She thrives on solving problems. During her tenure at Bear Creek greenway, she quickly – and we mean quickly – secured the $4 million needed to complete the last 4 miles of the Greenway. In 2011, when we were at our darkest hour, Joy worked the phones, knocked on doors, and practically went from house to house to find the money needed to keep the doors open and secure a financially sustainable future for SoHumane."
"I recently had the opportunity to attend an intensive development/fundraising training class with Joy Olson. As a new development director I can say without hesitation it was time well spent. Joy has such an impressive background and is an absolute master of best practices when it comes to fundraising and development. If you are looking for the highest caliber of fundraising and development experience I suggest you contact Joy. She has a proven track record of extraordinary results."
12 YEAR-END FUNDRAISING CHECK  LISTS
Today we review Year-End Fundraising Check Lists, 12 of them to be exact. Bloomerang recently published Claire Axelrad's 12 Fundraising Check Lists and it is so super that wanted to share with you today, along with your link to the download: https://bloomerang.co/resources/guides/the-definitive-year-end-fundraising-checklist/
AWESOME ANNUAL APPEAL TIPS FROM THE TOP
Annual Appeal Tips from Dean of Direct Mail, Jerry Huntsinger
1. Don't do too much 'good news' reporting
2. Do talk a little about yourself for personal touch
3. Surprise them with your new or unique format
4. Tell more stories about need
5. Create graphic excitement with font and headlines
6. Do a loooong letter (2 or 3 pages)
7. Don't be shy about offending them with your appeals
8. Get to Know Your donors
9. Let them know you're thinking about them
6 EASY #GIVINGTUESDAY HACKS
October is the perfect time to review or begin or improve your 2017 #GivingTuesday campaign. Need some inspiration or a few tips?
1. Set up Goals ( new donors, $$$$, etc)
2. Take a #GivingTuesday Webinar for new ideas
3. Make a Plan with goals and timeline
4. Be Inspiring with Your Stories
5. Create really good instant thank you's with the platform you choose
6. Try New Ideas
MAGIC MOVES MANAGEMENT STEPS FOR MAJOR GIFT DONOR SUCCESS
Perfecting Moves Management is essential to securing major gifts. Let's learn from David Dunlap, the pioneer of moves management and focus on how we can make our donors want to give more!
2017 LACKLUSTER FUNDRAISING REPORT
The 2017 FEP Giving Effectiveness Report, (http://afpfep.org), which I read last weekend prompted this video and the video seems very somber, but so is the news! I personally trust this report due to the fact that 4 superstars, Bloomerang, DonorPerfect, eTapestry and Neon put it the data together with nearly 11,000 nonprofits participating! Fundraisers, you need to read this report and adjust your fundraising!  We are certainly not making forward-like fundraising strides!
Don't Lose Your New Donors!
Most new donors will never give again, 70% to be more specific! So how do you keep them and turn them into loyal advocates for your cause? Follow these brilliant steps from the New Welcome Plan Save the Children has put together! It Works! And put together a welcome plan now in time for those #GivingTuesday new donors you are going to acquire this year!
I started my career as a stockbroker and after 17 stressful years so looked forward to the feel-good and do-good non-profit world. I am a competitor and did my first triathlon at 40 later becoming an age-group world class triathlete. My first marathon was a few years ago in Paris with my Rotarian friends. I loved being a mother of 2 sons and am crazy in love with my pets, currently four dogs and three cats. I love huge challenges and prefer turnaround situations where getting money in the door is critical. I love having a Plan A with a good back-up Plan B to make sure it happens. Planning is Critical. A true passion of mine in the development field the past six years is social media, I think it is the new wave and direction of fundraising in the world and I embrace it. Now I love being at the point to quantify the results. And finally it is with great pleasure and satisfaction to make my experiences available and scalable for anyone out there who has the passion and the inclination to make the world a better place by becoming an expert fundraiser! Here's to you and I hope your hearts will help change the world.
WE WORK WITH FUNDRAISERS GLOBALLY TO GIVE THE HIGHEST QUALITY ADVICE AND TRAINING POSSIBLE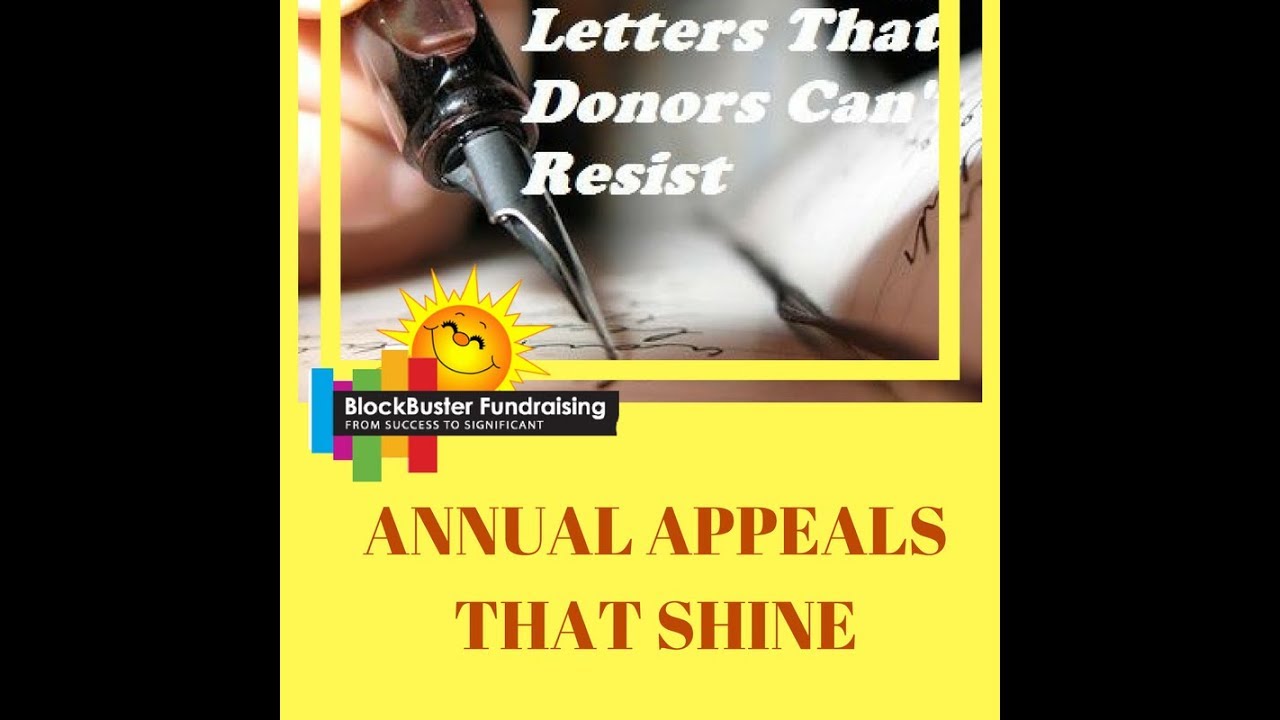 Fabulous Annual Appeal Year-End Fundraising Tips From the Top
Annual Appeal Suggestions and Who better to take annual appeal suggestions from than the Dean of Direct Mail? Jerry Huntsinger from the Showcase of Fundraising Innovation and Inspiration (SOFII) gives these nine great tips for winning appeal letters.